Alfa Romeo began in 1910, and since its founding, the luxury car manufacturer has repeatedly produced groundbreaking, high-performing vehicles that left their mark on automotive history. 
Although numerous Alfa Romeo vehicles solidified their own unique legacies, one especially impressive model is the 1965 Alfa Romeo Giulia Sprint Speciale.
In this blog, you'll learn about Alfa Romeo's history leading up to the creation of the 1965 Giulia Sprint Speciale as well as some of the important car designers who paved the way for its design. 
Alfa Romeo Post World War II
The Italian luxury automotive company, Alfa Romeo, produced its Sprint Speciale car series from 1954 to 1966. A decade earlier, Alfa Romeo had undergone a tumultuous and challenging time during the Second World War. During the war, the company produced engines for the Macchi C.202 Folgore, a fighter aircraft that Italy used against the Allied powers. 
In 1943, the Allies nearly wiped out Alfa Romeo's factory during their bombing of Milan. Fortunately, the factory survived the war, but the company continued to struggle financially. 
The company decided to begin mass-producing modestly-sized cars that sold for a relatively moderate price compared to past Alfa Romeo iterations. The firm's chief engineer at the time, Orazio Satta Puligo, oversaw the company's conversion to mass production. 
Alfa Romeo began their mass production with the 1290cc Giulietta cars, the first Alfa Romeo vehicles with small-displacement engines. In 1963, Alfa Romeo equipped their Giulietta series of cars with a 1570cc engine and renamed the series "Giulia." 
Since the time in which the Italian automaker initially produced this stunning series of luxury cars, the vehicles have become far rarer sights to see on the road. They are now considered valuable collector's items, and perhaps the most breathtaking and special model from the Giulietta and Giulia series is the Sprint Speciale. 
Nuccio Bertone's Giuliettas
As Alfa Romeo continued struggling after World War II in the early 1950s, they commissioned Nuccio Bertone to design and create a limited series of two-seater coupes intended for the company's investors. 
Alfa Romeo had a long-standing relationship with Bertone's coach-building company, Carrozzeria Bertone. The Italian luxury automakers initially worked with Carrozzeria Bertone in 1932, when Nuccio Bertone's father, Giovanni Bertone, worked on Alfa Romeo's unfinished rolling chassis. 
Nuccio Bertone learned from the family business and began creating impressive car designs. He was able to keep Carrozzeria Bertone afloat during World War II by selling his brilliant designs.
After World War II, Nuccio took over his father's business, but he primarily became known for racing sports cars. His experience in racing experimental cars further equipped him with expert knowledge in designing high-performing vehicles. He learned all about optimizing aerodynamics, finding the right weight distribution, and building the right chassis and body for achieving the most speed. He later used his knowledge on the racetrack to design Alfa Romeo's groundbreaking vehicles, including the Giulietta Sprint Speciale. 
Bertone developed an even closer relationship with Alfa Romeo through his race car driving. He gained the respect of engineer Rudolph Hruschka by beating out notable Italian race cars, including racing vehicles designed by Carlo Abarth. 
Hruschka had made a name for himself working with Porsche, but at the time of Bertone's racing success, he served as the chief government consultant for Alfa Romeo. 
Through his friendship with Hruschka, Bertone began designing vehicles for Alfa Romeo. Bertone crafted the Giulietta Sprint body. These vehicles impressed Alfa Romeo's investors and prevented the company from going defunct. Alfa Romeo offered a contract to Bertone to mass produce his Giulietta Sprint cars. 
Alfa Romeo manufactured its first Giulietta cars in their Portello factory in 1955. This series featured a mix of sedans and sports cars that shared the same chassis layout, and the vehicles boasted race-inspired running gears and 1290cc twin-cam engines. 
Nuccio Bertone's Giulietta Sprint was an instant success, and Carrozzeria Bertone quickly grew in popularity. Bertone went on to design more car bodies for Alfa Romeo, including the 1900cc Gran Touring cars. 
The Roots of Alfa Romeo Sprint Speciale's Aerodynamic Design
The 1965 Alfa Romeo Sprint Speciale is known for its sleek and aerodynamic design. Before designing the Sprint Speciale, Nuccio Bertone worked on previous car body designs intended to optimize aerodynamics. One such project was Alfa Romeo's Disco Volante, meaning "Flying Saucer," project from 1952 to 1953. During Bertone's time designing this series of experimental sports cars, he grew in his knowledge of improving vehicle aerodynamics, which he then used when designing the Sprint Speciale. 
The way in which Bertone improved car aerodynamics was by shaping the car's body in a way that would direct airflow toward the back of the car, grounding the vehicle's rear wheels. This was an important innovation in the history of car body designs because it stabilized the vehicle. One common problem with speedy, aerodynamic vehicles in the 1950s was cars' rear-end stability when reaching high speeds. Bertone's intelligent design fixed this performance issue. 
In 1953, Bertone introduced the Berlina Aerodinamica Tecnica (BAT) prototype cars, which he built on Alfa Romeo's 1900 SS chassis. Bertone's experience on Disco Volante and BAT prototypes laid the foundation for his aerodynamic Sprint Speciale design. 
This one-of-a-kind design only briefly made an appearance in the automotive world. After the Sprint Speciale, Alfa Romeo quickly began introducing less complicated wedge and Kammback designs. Additionally, government regulations also stifled more powerful, aerodynamic car designs. 
Introduction of the Alfa Romeo Giulietta Sprint Speciale
Alfa Romeo and Nuccio Bertone introduced the stunning Alfa Romeo Sprint Speciale at the Torino Motor Show in March of 1957. That same year, Bertone created five Giulietta Sprint Speciale models, which boasted some of the most advanced automotive intricacies available at the time.   
The engineers at Alfa Romeo went to work equipping Bertone's innovative car bodies with powerhouse specifications. They equipped the Sprint Speciale with a four-cylinder engine with 1570cc. They also created larger valve sizes and designed the camshaft and exhaust to increase the engine's torque. With the engine's larger capacity along with its 9.7:1 compression ratio, the engine could produce 112 bhp per 6500 rpm, the equivalent of around 129 SAE. 
Alfa Romeo's engineers created such a large engine with its hefty air inlet box and headers that Bertone had to revise the vehicle's chassis.
The Sprint Speciale received further performance upgrades, such as Girling front disc brakes and large-finned aluminum drums. Additionally, Carrozzeria Bertone added side winking lights and a new designation on the side and tail of the car. 
The 1965 Alfa Romeo Giulia Sprint Speciale
Although Nuccio Bertone and Alfa Romeo produced a magnificent car with the Giulietta Sprint Speciale, that's not where the story ends. 
Alfa Romeo went on to introduce their new Giulia Sprint Speciale prototype in March of 1963 at the Geneva Motor Show. The company renamed the vehicle "Giulia," but the vehicle's body remained unchanged from Bertone's Giulietta Sprint Speciale. Instead, they equipped the prototype with a larger 1.6L engine. The company used a 1570cc engine with Weber 40 DCOE2 carburetors from the Giulia Sprint Veloce, delivering 112 horsepower. This powerful 1570cc engine could reach up to 120 miles per hour.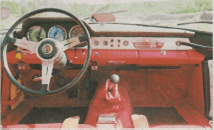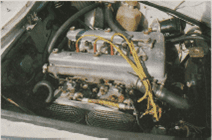 Although the Giulia's body resembled the Giulietta, Alfa Romeo did introduce some cosmetic changes. Unlike the Giulietta Sprint Speciale, the Giulia features a leather underside on its dashboard. Additionally, the vehicle features a side badge that reads "Giulia SS," with "SS" serving as an acronym for "Sprint Speciale."  
Alfa Romeo mostly halted production on their Giulia Sprint Speciale series in 1965, but they produced a final Sprint Speciale in 1966. In total, the company manufactured 1,366 Giulietta Sprint Speciales and 1,400 Giulia Sprint Speciales. 
Giulia Sprint Speciales are quite rare, but the 1965 Alfa Romeo Giulia Sprint Speciale is especially hard to find because Alfa Romeo only produced 103 units that year. 
Get Premium Insurance on Your Classic Alfa Romeo
Driving one of Alfa Romeo's groundbreaking classic vehicles is a one-of-a-kind experience, and if you're fortunate enough to have one of these beauties in your specialty car collection — such as the 1965 Giulia Sprint Speciale — you need the best classic auto insurance available. 
Here at Classic Auto, we're more than just an insurance company — we're also car enthusiasts. That's why we offer customizable policies on classic sports and luxury vehicles, like Alfa Romeo's many historic models. 
One distinct feature that sets our policies apart from other classic car insurance companies is our agreed-upon value. Rather than telling you what your classic Alfa Romeo is worth, we'll work with you to determine its real value, and if you ever total your car, you'll receive the agreed-upon value minus your deductible. 
Classic Auto's policies also include flexible mileage plans and rollover miles, so you never need to worry about wasting your plan's mileage. Our policies also include other unique benefits, like inflation guard and nationwide flatbed towing. 
If you're ready to learn more about protecting your classic Alfa Romeo, call our experts today at 888-901-1338, or you can get an instant car insurance quote here.