Celebrating the life of Samuel "Hollywood Sam" Gurley. Hollywood Sam had a passion for classic cars and trucks. Years later, his passion to share his love within his community inspired Ken to pursue restoring a 1964 Corvette Stingray.
At the 2020 Detroit Autorama, some of the best interviews we came across were not at the front of the show room, but deep within the venue.  We found Ken and had the opportunity to speak with him about his incredible 1964 Corvette Stingray.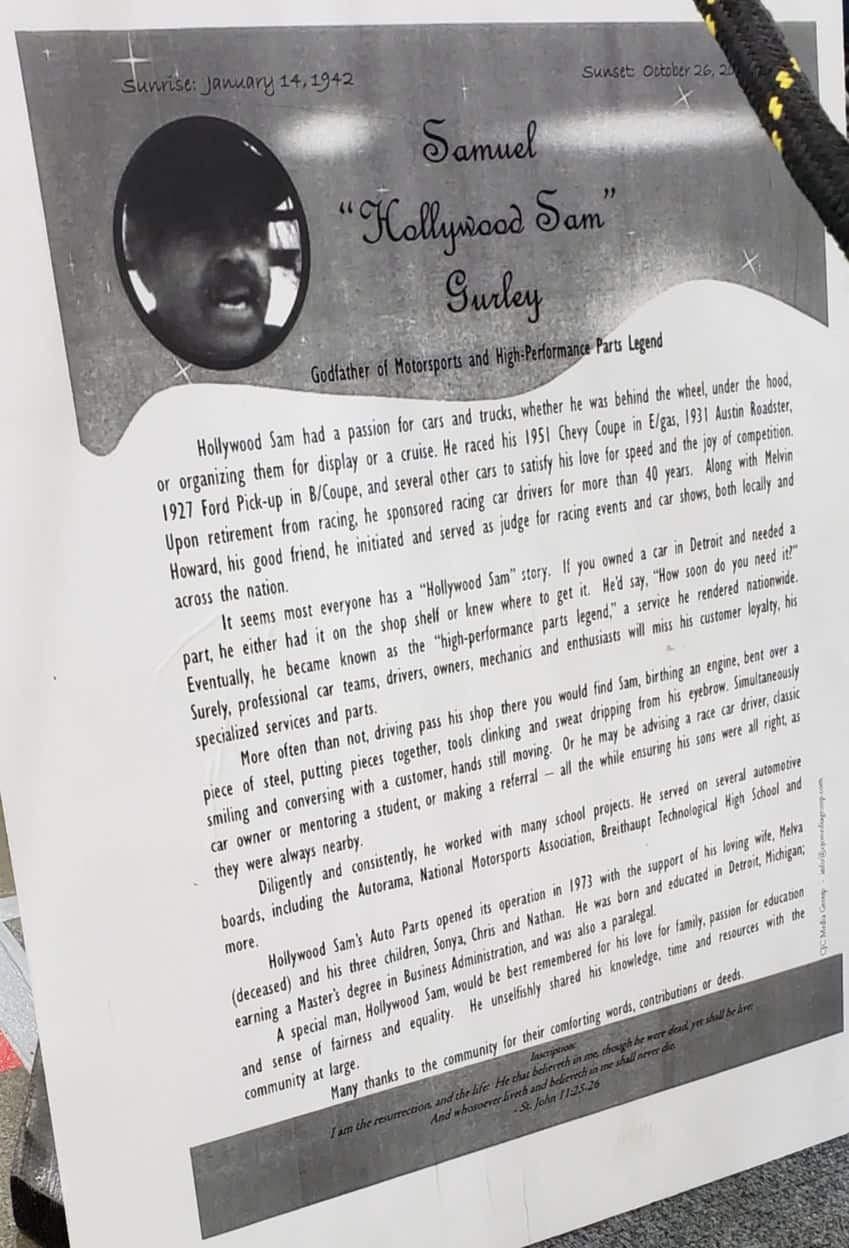 Interview Transcription:
Rick: All right. This is Rick Drewry. I'm with Classic Auto Insurance here at Detroit Autorama 2020 and we walked by and saw this beautiful '64 Corvette, decided we needed to stop and talk. Apparently there's a lot more to just the Corvette. Ken, tell me about the car first. What's going on?
Ken: Actually this is a 1964 Chevy Corvette and it's the basic model. The difference is it has the air conditioning and power steering, power brakes, and it's automatic.
Rick: So it had all the comforts.
Ken: All the comforts that I needed at this time of life.
Rick: Yeah. I understand that. So, how long has it been done?
Ken: I've had it for three years in the making.
Rick: Okay.
Ken: And it was basically a decent driver. But over the years, and you tinkering in the backyard, you start to bring it up.
Rick: What have you done to it?
Ken: Oh. We went over to paint and buffed out it patched in where we had to. We tried to keep it as original as possible.
Rick: Right. All right. But this whole display here, tell me what's going on with the Hollywood Sam.
Ken: Well, actually Hollywood Sam is one of the reasons I'm here today.
Rick: Okay.
Ken: Because as a kid during the '70s you would always look in the magazines and not really see. Only in magazines would you see these parts. But you could actually go on Grand River in Wyoming to his store, and see it on the wall where you could actually touch it.
Rick: Yeah. Right.
Ken: And for a kid 15 on up. I mean, all of a sudden now you get that feel.
Rick: You get the bug.
Ken: Yeah.
Rick: Yeah. You get the bug.
Ken: And every one of these guys up and down this line are dedicated to coming here for him.
Rick: Okay. Very cool. So Hollywood Sam, is he around anymore?
Ken: No. He passed away about six years ago.
Rick: Okay. But this whole thing is a tribute to him and what he brought to the Hot Rod, Corvette.
Ken: The Hot Rod and the Motor City area.
Rick: Okay.
Ken: And he's always been a mentor to every kid that came in his door.
Rick: That is so cool that you guys did this as a group.
Ken: Yeah. It was fun.
Rick: That's awesome.
Ken: In appreciation for him.
Rick: Very good. I think your car is going to show well by the way.
Ken: Well thank you.
Rick: It looks very nice. Well done. Not overstated. It should be.
Ken: Yeah. Because after all, I look at it from a 63 year olds eyes, and we didn't have all the technology then.
Rick: Yeah. But you made it the best you could.
Ken: Yeah. I made it to that guys… What that guy liked.
Rick: Perfect. Perfect. Well, I appreciate you coming out. I think it's a great tribute, what you're doing. I think it's a cool story.
Ken: All right. Thank you.
Rick: Thanks a lot.
Ken: Appreciate it.
Collector and Classic Car Insurance for Less
Protect your valuable iconic ride for years to come with Classic Auto Insurance. Let us customize a policy to fit your needs. We offer affordable, Agreed Value coverage for a variety of collector, classic and custom vehicles. Our friendly, knowledgeable staff can answer your questions and give you a quote on the spot. Call 888-901-1338 or get an instant quote online and see how we can help safeguard your dream car.