What Are You Waiting for? World of Wheels is Here!
The O'Reilly Auto Parts World of Wheels Custom Auto Show is happening right now thru Valentine's Day at the Indianapolis State Fairgrounds – four massive buildings jammed packed with beautiful cars, trucks and motorcycles on display. Don't believe us? Check out this 2015 WOW video highlighting a stunning black 1959 Chevrolet Impala. Amazing cars like this one are waiting for you at the show.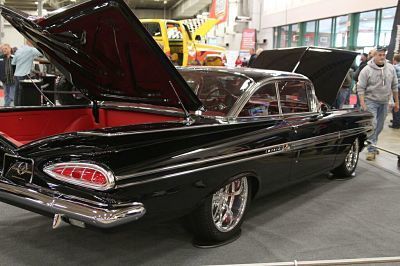 The Impala Puts Chevy Back on Top
In 1958, GM is celebrating 50 years of production by having each of its brands introduce an anniversary model – the Cadillac Eldorado Seville, Buick Roadmaster Riviera, Oldsmobile Holiday 88, Pontiac Bonneville Catalina and the all-new Chevy Bel-Air Impala. Named for a Southern African Antelope, the Impala's instant popularity lifts Chevy back into the top production spot among auto companies.
What a Showstopper
Chevy's success means the Impala soon gets its own model series and a makeover by Chevy design chief Harley Earl (in his last official design project before retiring). Earl is inspired by Chevy's need for a car that can compete with Chrysler and Ford, and he wants the Impala to look different. His flamboyant style is clearly evident.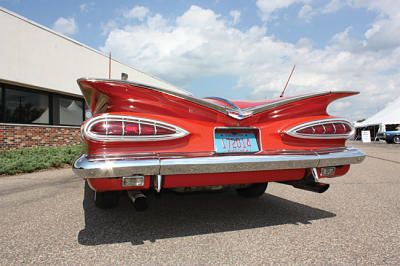 (www.oldcarweekly.com)
Introducing Bat Wings
Designers slope and lower the roofline by three inches, giving the Impala a longer, streamlined look. A radical "bat wing" rear profile is introduced with the fins curving outward rather than upward, forming a "V" over the back of the car.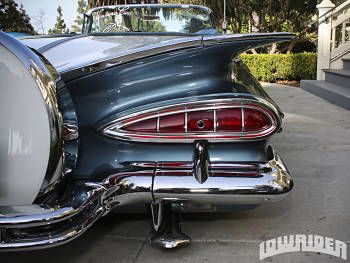 (www.lowrider.com)
Impala "Eyes" Have It
Distinctive "cats eye" tail lights, framed by rear fin "eyebrows," make the Impala one of the most recognized models from the '50's. Chevy also installs wrap-around glass for the windshield and rear window, giving an almost unobstructed view from the inside.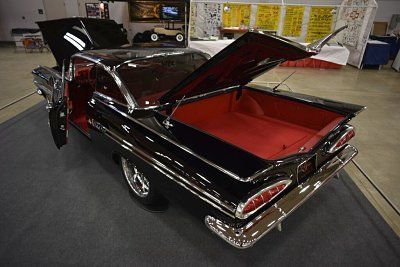 Over 13 Million Impalas Sold
Under the hood, a six cylinder inline (235 cid) or a V8 (283 cid) small block engine comes standard. In 1959, a new Impala cost $2,592 for the V6 engine or $2,967 for the V8. From 1958-1966 over 13 million Impalas are sold, which bests any other full sized car in history.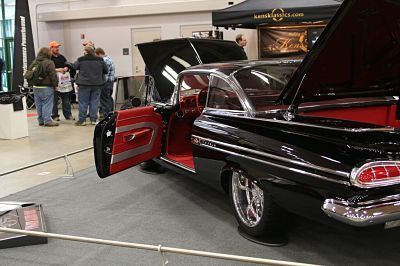 Quality Workmanship On Display at WOW
What draws our attention to the'59 Impala featured in the video is the exceptional paint job. Everyone knows that black paint shows every bump, blemish and speck of dust. This car is as smooth as glass and the color reflects light like nobody's business. It is a prime example of superior body work and attention to detail. This is the kind of quality workmanship you will see at this year's World of Wheels as well.
Largest Indoor Automotive Show in Indianapolis
The 57th Annual O'Reilly Auto Parts World of Wheels Custom Auto Show is part of Autorama, the Summit Racing Equipment Show Car Series and the International Show Car Association. The largest indoor automotive show event each year in Indianapolis, it features traditional rods, customs, trucks and motorcycles. The three-day event is packed with live entertainment, charity auctions and exhibits. WOW is a car lover's dream weekend, so be there!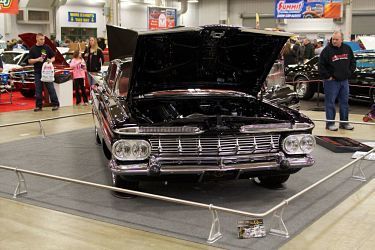 Meet Classic Auto at WOW Indianapolis Feb. 12-14
Attending events like WOW Indianapolis 2016 is a way for us to meet fellow classic lovers and to be a part of the collector car community. Stop by the Classic Auto Insurance booth at the Indiana State Fairgrounds and let our friendly experts help you find the perfect policy for your collector or classic car. With onsite quotes, we can instantly help you insure your vehicle for less. Visit our website at www.classicins.com and see how we can help safeguard your dream car.