The crowd at the World of Wheels Car Show in Indianapolis got a purple treat this year. The first show car you saw when walking into the Blue Ribbon Pavilion was a 1941 Willys Pro Street Rod. The reason this fantastic beast was such a treat was that it placed in the top 8 for the 2019 Ridler Award at Detroit's Autorama.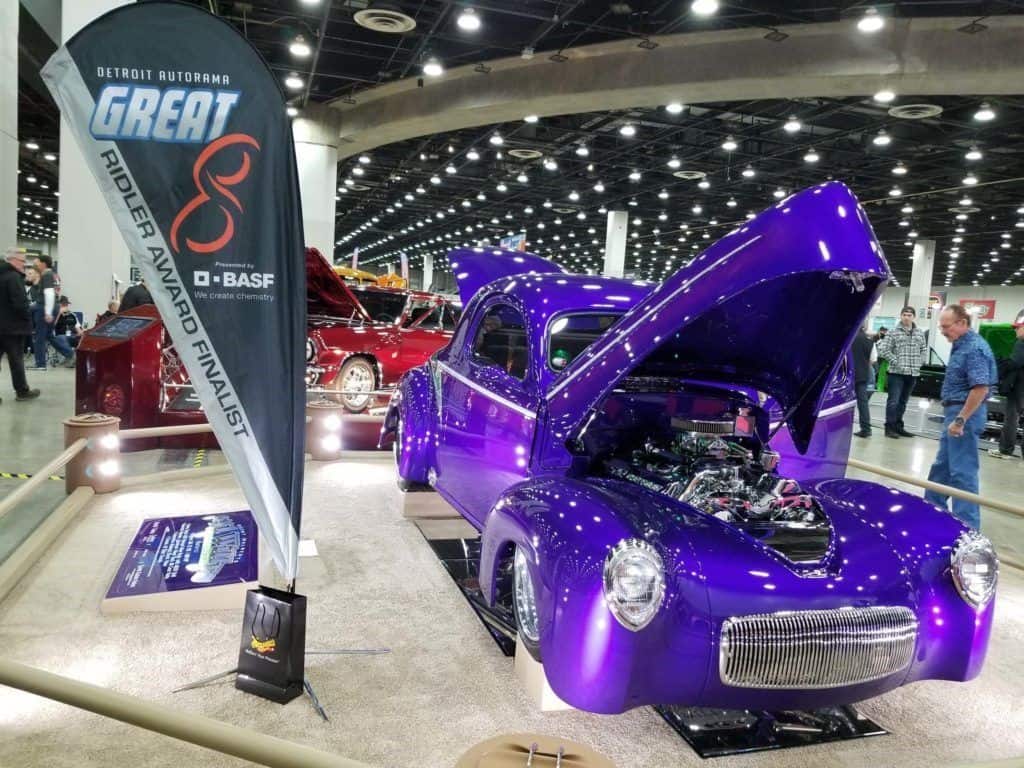 Quint of Quints Kustom Kolors, the owner and builder of the 1941 Willys, has several stories to tell. So many stories that we needed to create two videos.
Interview Transcription:
Drew: Hi, this is Drew with Classic Auto Insurance and I'm here at the World of Wheels, Indianapolis 2020. And I'm here with Quint who's got a phenomenal 1941 Willys. And this has been a long time coming, but I'm really amazed that you did a lot of the work on this thing.
Quint: Yeah, I built the whole car. Basically, it took me… Got about eight years in it, work on the weekends. Of course, this is what I do for a living, so I'd worked on all my customers' cars during the week and I'd go home on the weekend and work on mine. Built the car from the ground up. Basically, there was a car, I bought a roller, I bought the body, and then I bought the chassis from a company out of North Carolina. And then, from that point on, I just got it home and got it in my shop at home, started putting it together and working on it. And eight years later, this is what I ended up with. But I body-worked it, fitted it, painted it, did the graphics on it, put the motor, suspension, tranny, rear end.
Quint: I had some help with a couple of my buddies, of course I needed some help putting the deck lid and doors on, things like that. The interior of it, I did have a good friend of mine owns Cutter's Custom Hot Rod Interiors out in Dillsboro, Indiana. He did the upholstery work for me, all the sewing the seats and upholstery. I built the dash in it and all that type of stuff. But my shop, Quint's Kustom Kolors, I did all the paint work and body work and built the car there. So we built the car, or I built the car. A couple of my guys helped me on, like I said, holding some panels and stuff, but I designed it and built it. It's a one-off color mix. The color on it, it's all House of Kolor paint, but it's a one-off mix. It's a four stage Pearl, which most people don't know what that is or heard of it. But it's a hand-mix, it's a one of a kind color. There's no other color out there like it. It's my own personal mix. And there's a few things like that about the car. So I was just trying to build something that was a little different but also what I liked.
Drew: Obviously, any time you do a car like this, there's some challenges. What was the biggest pain point for you guys while you were putting this together?
Quint: Look at it. Everything is just shoved in with a shoe horn. It's a build that things have to be moved around and changed. I got a ZZ 572 motor in it. A lot of these cars, guys will run blower motors in them, they won't have hoods on them, the alternator and the air conditioning unit's sticking way up in the air past the inner fenders. I didn't want any of that. I wanted to run a hood on it. I've got all mine fitted to where I can close the hood on just like an everyday car, close it up, drive it down the road. Those were some of the bigger challenges. And this car, believe it or not, is a fiberglass body. People think it's all metal because I shaved and smoothed the whole undercarriage on it, all the inner fenders. Even when I went to Detroit trying to qualify for the Riddler, the judges even had to ask me if it was a steel car or a fiberglass car. That's what I was trying to go for, to get that look where they didn't really know which one it was because kind of hard to find these old cars in metal these days anyway. But that's a lot of challenge. These cars are, they move around and breathe, so trying to get everything to fit quite right and make everything work.
Quint: This car, it was a love/hate relationship. I'm not going to lie to you. I've built a lot of cars and I have to say this one here was one of the more challenging cars just because of everything being such close tolerances and to get the look I was after and the kind of build I wanted to do. And I'm pretty happy the way it turned out.
Drew: I really appreciate your time. It's phenomenal. Thanks for displaying it here and letting everybody see what quality work you put together.
Quint: Hey, I appreciate the opportunity. I appreciate the interview. And like I said, anytime man.
Drew: Awesome. Nice to meet you.
Quint: Hey, nice to meet you.
Drew: Thanks again. Appreciate it.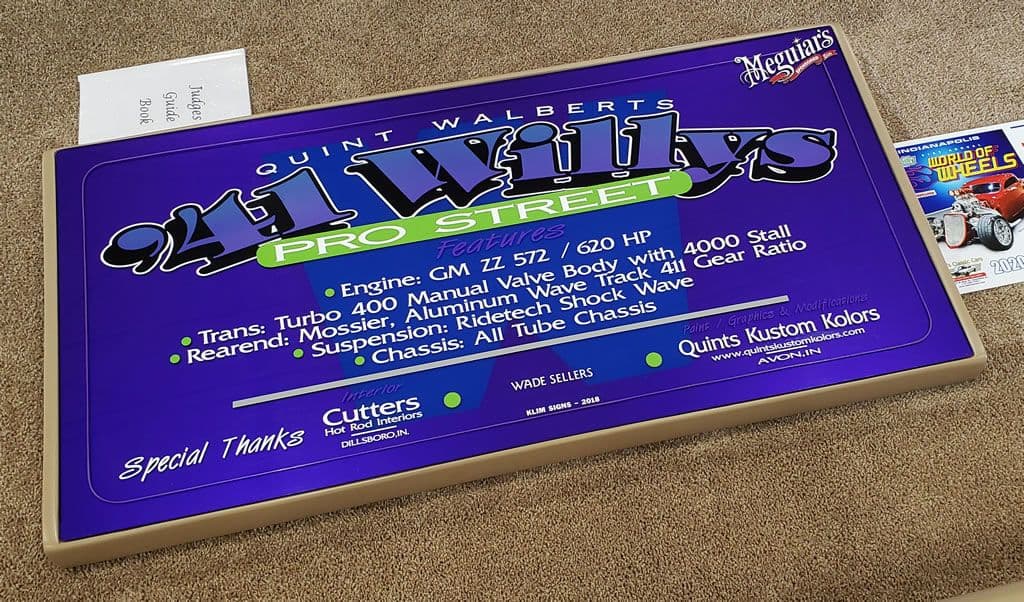 Collector and Classic Car Insurance for Less
Your classic and collector cars don't need to be famous (or infamous) to be important to you – we can help you keep them safe. Let us customize a policy to fit your needs. We offer affordable, Agreed Value coverage for a variety of collector, classic and custom vehicles. Our friendly, knowledgeable staff can answer your questions and give you a quote on the spot. Call 888-901-1338 or get an instant quote online and see how we can help safeguard your dream car.