In the late 1930s, Alfa Romeo created one of its most stunning racing cars — the 1938 8C 2900 Tipo B MM Spider. This breathtaking vehicle had notable racing wins in the 1930s and early 1950s, and its remarkable style and powerhouse performance left an important mark on racing and automotive history.
The Importance of the Mille Miglia
The "MM" in the Spider's name stands for Mille Miglia, which in Italian means "thousand miles." The Mille Miglia was an Italian open-road race created in 1927 by Counts Francesco Mazzotti and Aymo Maggie. The race is a single lap and spans 1,000 miles, as the name suggests.
In the 1920s and 1930s, race car wins served as an important part of increasing car sales, so automakers, such as Bentley, Mercedes Benz, Alfa Romeo, and others, invested a great deal of time and money in creating top-notch racing vehicles.
Additionally, car races were an important part of a manufacturer's national pride, and with the increase of European nationalism leading up to World War II, automakers cared a great deal about winning races in their home countries.
One of these automakers was Alfa Romeo, headquartered in Italy, which was governed by Benito Mussolini's National Fascist Party from 1922 until 1943.
With a focus on increasing car sales and contributing to national pride, Alfa Romeo created the 1938 8C 2900 Tipo B MM Spider to continue their Mille Miglia winning streak, which began with the Alfa Romeo 8C 2300 Spider Touring's win in 1932.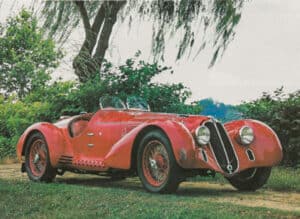 1938 8C 2900 Tipo B MM Spider Specifications
The Italian coachbuilder Carrozzeria Touring Superleggera constructed four Tipo B MM Spiders through their super-light construction technique.
Alfa Romeo equipped these breathtaking racing cars with the 2.9-liter straight-8 engines with double overhead camshafts and dual superchargers with 225 bhp. The Spider's engine is made up of two blocks of four cylinders on a common crankcase. Each bank has a supercharger, and each block has a non-detachable head. Alfa Romeo first used this powerhouse engine on their 2900 Tipo A in 1936.
While Alfa Romeo equipped three of the four 1938 Spiders with the 2.9-liter straight-eight, they supplied the fourth Spider with an engine from the Alfa Romeo Tipo 308 Grand Prix with 295 bhp.
The First 1938 8C 2900 Tipo B MM Spider
Race car driver and two-time Mille Miglia winner Carlo Maria Pintacuda drove the first 1938 8C 2900 Tipo B MM Spider during the 1938 Mille Miglia. Pintacuda first won the Mille Miglia in 1935 with the Alfa Romeo Tipo B, and he won again in 1937 with the Alfa Romeo 8C 2900.
Although Pintacuda showed exceptional driving performance and averaged a speed of 84 miles per hour for one thousand miles, his brakes locked up during the race, costing him the lead.
Pintacuda's teammate, Clemente Biondetti, won the race, and Pintacuda came in second. Biondetti also drove one of the four 1938 8C 2900 Tipo B MM Spiders, but his Spider had the engine from an Alfa Romeo Tipo 308 Grand Prix.
Alfa Romeo had tremendous success with Biondetti and Pintacuda's performances, but the other two Tipo B Spiders didn't finish the race. One had a blown engine while the other crashed.
Although he didn't win the 1938 Mille Miglia, Pintacuda won the 1938 24 Hours of Spa, a race at the Circuit de Spa-Francorchamps in Belgium, later that year.
1938 8C 2900 Tipo B MM Spider in the United States
Alfa Corse, Alfa Romeo's factory racing team, campaigned Pintacuda's Tipo B Spider until World War II began. During the war, Alfa Romeo focused on making fighter aircraft engines, and their factory was bombed by the Allies in 1943.
Fortunately, Pintacuda's Tipo B Spider survived the war, and American race car driver Phil Hill purchased the car in 1950.
Phil Hill was known for being one of two Americans to win the Formula One World Drivers' Championship in 1961, and he also had tremendous wins at the 24 Hours of Le Mans and the 12 Hours of Sebring. He was inducted into the Motorsports Hall of Fame of America in 1989 and the International Motorsports Hall of Fame in 1991.
Hill drove the Tipo B Spider in the early 1950s. He competed in notable races on the west coast of the United States against cars that were up to 14 years newer. Despite Tipo B's older age, the car performed magnificently and won the 1951 Del Monte Handicap Race in Pebble Beach, located in Del Monte Forest, California.
The Legacy Lives On
Phil Hill sold the car in the mid-1950s. Through a succession of owners, it found its way into the collection of noted industrial designer Brooks Stevens. Stevens did a cosmetic restoration of the Classic Alfa Romeo in 1968 and proudly displayed it over the next 14 years.
In 1982 the car was purchased by its current owner, Bill Serri. Bill recognizes the importance of this Alfa Romeo classic since it is now the only one of the four 1938 Mille Miglia cars to survive with its original bodywork intact. Bill is a sports car aficionado who owns several of the finest sports and racing cars ever produced. He is also keenly aware that sports cars and racing cars were built to be driven and raced. The engine in the car was tired from years of racing and both engine blocks were damaged. Bill began a painstaking and detailed mechanical restoration of the car. Completed in early 1994 the car was once again ready for the road. As a seasoned vintage race participant, Bill regularly drives the Alfa in vintage events and on the road.
Feeling the Power of a Piece of History
Bill and I wheeled the car out of the garage and studied its form for a few minutes while discussing some of the finer points of the car's history. The bodywork on the car is both sexy and aggressive. Raked back grille, flowing fender lines, cut-down doors, and tapered boat tail were sultry in their application. The wide stance, abundant louvers, and no-frills finishes make the car look race ready. The overall effect is of a car that is in motion while standing still. The car is a joy to look at and still stands as one of the greatest achievements in automotive design, a true masterpiece.
We climbed into the classic Alfa Romeo's surprisingly spacious driver's compartment and Bill hit the starter button. The en­gine fired instantly.
When I originally called Bill to arrange our meeting, he ad­vised me to, "Bring a change of underwear." It didn't take long to figure out what he meant by that. The car took off with a surpris­ing kick. The acceleration was a surprise since that was not what this car was built to do. The sound was unlike any I have ever heard. A combination of a throaty roar from the eight cylinders firing through an almost straight pipe exhaust system, the ever-present high pitch whine of the superchargers, and the bare-knuckle sound of gears meshing and turning. On relatively lightly traveled residential streets the car ate every turn and obstacle thrown at it. Of course, Bill's skill behind the wheel was a big factor. As we sped down one road Bill told me to take hold of the wheel and get a feel for the steering. Although I only had my hand on the wheel for a moment, I can tell you that the handling was a big surprise. I have driven sports cars twenty years newer than this one that didn't feel as light and responsive as this Alfa Romeo classic.
After returning the car safely home, I couldn't thank Bill enough for the whole day. As Alfa Romeo retreats from the American automotive marketplace, it was both a thrill and an honor to get a ride in perhaps one of the most historically significant surviving Alfa Romeo cars. I can only hope that Alfa will recapture some of the excitement that cars like this one created and return to America with another masterpiece.
The 1938 8C 2900 Tipo B MM Spider is truly a one-a-kind, stunning racing car that solidified its legacy in motor history.
Great Robust Insurance on Antique Sports Cars
Whether you need protection on a 1938 8C 2900 Tipo B MM Spider or another classic sport or luxury car, you can count on Classic Auto Insurance to provide premium and affordable protection. We also have policies specifically tailored to Alfa Romeo vehicles. Our policies also include unique benefits, such as agreed-upon value, nationwide flatbed towing, inflation guard, rollover miles, and more.
Protect your breathtaking classic today by calling 888-901-1338, or you can get an instant quote here.