The 1930s were a critical time for the automotive industry. The decade saw many groundbreaking vehicles, such as the 1932 Ford, the 1930 Buick Series 40 Phaeton, and many other remarkable cars. 
One of the most noteworthy car developers of the decade was the Packard Motor Car Company. James Ward Packard, William Doud Packard, and George Lewis Weiss started this innovative luxury automobile company in 1899, and it remained an important developer until the company became defunct in 1958.
In 1937, the company released 50 breathtaking car models and built a record-breaking 109,518 cars. Two of their most important releases that year were the 1937 Packard Super 8 and the 1937 120 Packard. 
The Success of 120 Packard and the Accompanying 115 Packard
The first half of 1937 was marked by economic prosperity in the United States. Although during the Great Depression, the first half of the year saw a substantial decrease in unemployment and an increase in wages.
Leading up to 1937, the Packard Motor Car Company had great success with their 120 Packard. The manufacturer debuted this stunning vehicle in 1935. It was the luxury automaker's attempt to compete in the eight-cylinder, mid-level car market against LaSalle, Chrysler, and Lincoln-Zephyr. 
Although Packard was known for luxury, the 120 was more affordable and accessible to motorists, and it came in various body styles, including the 2-door coupe, 2-door convertible, 2-door sedan, and 4-door sedan.
In its first year, the 120 Packard offered a powertrain with a 257 cu in L-head inline eight engine that produced 110 bhp at 3850 rpm with a 3-speed manual transmission. 
The car was an immediate success with Packard producing nearly 25,000 units that year. This was a shocking number considering they only made 7,000 units of all other types of Packard cars that year. 
Packard's beautiful eight-cylinder vehicle sold even better the following year — they produced 55,042 units. The manufacturer upgraded the vehicle with a 282 cu in I8 engine that could reach a speed of 85 miles per hour. 
In 1937, Packard began offering the 120 in new styles: the 4-door wood-bodied station wagon, Touring Sedan, and limousine. These body styles came with a 138 wheelbase while the original body styles were 120. 
That same year, the Packard Motor Car Company offered a less expensive companion to the 120 — the Packard Fifteenth Series Six Model 115. This more affordable option was Packard's first six-cylinder vehicle since 1928. It featured a 115-inch wheelbase and also came with a shorter 115-C option. The car was essentially a smaller version of the 120, but the interior and trim weren't as impressive. Although less remarkable than the 120, the 115 was also a huge success.
History of the 1937 Packard Super 8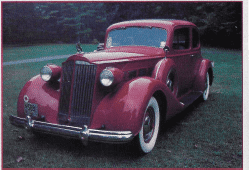 The Packard Motor Car Company offered more affordable and accessible options with the 120 and 115, but they didn't neglect to offer a breathtaking luxury vehicle that same year: the 1937 Packard Super 8. 
This powerful vehicle came with a 384.4 cu in I8 engine with a 3-speed manual transmission. That year, Packard reduced the overall size of the Super 8 — which originally debuted in 1933 — and updated it with a lighter design. Packard also removed the car's Bijur lubrication system and instead offered a dealer program that provided regular maintenance on the car's critical components. Additionally, Packard redesigned the car's front and rear bumpers. It also came with an independent front suspension as well as hydraulic brakes. 
Like the 120, the Packard Super 8 came in a 2-door coupe, 2-door convertible, 2-door sedan, and 4-door sedan.
Get Affordable Packard Classic Car Insurance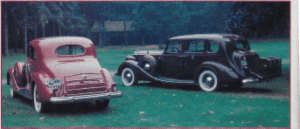 Although Packard built over 100,000 units and offered incredibly impressive models in 1937, the company would never again see such immense success. Fortunately, car collectors and enthusiasts can still find some of Packard's incredible classic vehicles. 
If you invest in one of the Packard Motor Company's iconic classic cars, you need great insurance to protect your purchase. With robust classic car insurance, you can keep your vehicle on the road for years to come. 
Here at Classic Auto Insurance, we offer classic car owners customizable policies that accommodate their unique needs. Our policies include valuable benefits such as inflation guard, agreed-upon value, nationwide roadside assistance with flatbed towing, rollover miles, and more. 
To learn more about protecting your classic car, call our motor experts at 888-901-1338, or you can click here for an instant quote.