Many breathtaking antique cars debuted in the 1920s, including the Studebaker Roadster, the Nash Touring, the Falcon Knight Roadster, and numerous more. And one of the most stunning and powerful cars of this decade was the 1927 Chrysler Imperial Phaeton.
Chrysler's Imperial made history through its impressive speed and performance, which established the automotive company as a major contender in the car manufacturing world.
Today, Chrysler — now officially Chrysler Stellantis North America — remains one of the "Big Three" car manufacturers in the United States along with General Motors and the Ford Motor Company, and part of the reason for their immense manufacturing success is due to the Imperial's tremendous achievements.
Here's what you need to know about the history and specifications of this beautiful vehicle.
History of the Chrysler Imperial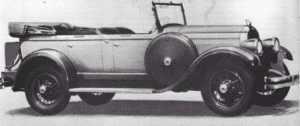 The Chrysler Corporation only predates the creation of the 1927 Imperial Phaeton by two years. The company's predecessor, the Maxwell Motor Company, was reorganized by Walter Chrysler in 1925.
A year later in 1926, Walter Chrysler decided to get into the luxury car business in order to compete with Cadillac, Cord, Duesenberg, Lincoln, Packard, Piece Arrow, and Studebaker. Chrysler's company developed the stunning Imperial E80, which offered both tremendous luxury and impressive speed performance. The "80" within the vehicle's title refers to the car's ability to go 80 miles per hour on cruise control all day, an incredible achievement considering most vehicles at that time maxed out around 50 mph.
The first iteration of the Imperial came equipped with a 288.6 cu in six-cylinder engine with seven bearing blocks. This engine was only a little larger than Chrysler's standard straight 6, which the company used for the Chrysler Six.
The car featured a solid front axle and a suspension with semi-elliptic leaf springs. The rear suspension consisted of a differential axle that also had semi-elliptic leaf springs.
The Chrysler Imperial's hood came with an iconic Viking Winged helmet ornament, making the vehicle look even more luxurious.
Chrysler released the car in various body styles including the 2-door roadster, 2-door coupe, 4-door sedan, 4-door limousine, and the 4-door Phaeton.
The Chrysler Imperial's Success
Chrysler offered luxury motorists an impressive vehicle with a notably powerful engine, and the car immediately made a name for itself with its incredible speed performance.
The car boasted impressive acceleration and could go from 0 to 60 mph in under 20 seconds. Additionally, Autocar Company tested Chrysler's luxury vehicle and found that the car could accelerate from 10 mph to 30 in nine seconds when using top gear and only six seconds when using second gear.
Around that time, acclaimed motorcycle racer Floyd Clymer drove one of the first available Chrysler Imperials from Kansas City all the way to Denver and averaged an impressive speed of 51.8 mph.
The vehicle offered such a remarkable performance that it was selected as the 1926 Indianapolis 500 pace car.
The car continued displaying an impressive performance when it set the transcontinental round-trip record in 1927. L. B Miller and J. E. Weiher drove a five-passenger Imperial from San Francisco to New York then back west to Los Angeles. They completed this cross-country journey in one minute under a week, and they drove a total of 6,726 miles.
This tremendous car put Chrysler on the map as a major automotive competitor. By 1927, the company became the fourth-most successful car manufacturer in the country, and Chrysler's shareholders collectively received $10 million in dividends.
The 1927 Chrysler Imperial Phaeton
In 1927, Chrysler made subtle improvements to the Imperial, including a high compression "Red Heat" 288.6 cu in straight-six engine. That year, the automaker also offered three different wheelbase options: the 120 in, 127 in, and people could special order a 133 in.
With the different available body styles and wheelbase options, the 1927 Chrysler Imperial's price ranged from $2,495 to $3,595.
Although all of Chrysler's 1927 Imperials were impressive, the most special and stylish units were John Warren Watson's black and yellow Imperial Sportif Phaetons. Lawrence Pomeroy designed these iconic vehicles, which featured a snap-on cover for the car's rear passenger compartment and dual-folding windshields. These vehicles also came with custom Stabilitator shock absorbers that were similar to shock absorbers used on the race track.
Only six of these Imperial Sportif Phaetons were produced, and one is featured on display at the Henry Ford Museum in Michigan.
Get Great Insurance On Your Antique Car
If you're looking for protective insurance for your vintage or antique car, you're in the right place! Classic Auto Insurance offers robust, customizable insurance that can keep your classic vehicle on the road for years to come.
Our affordable and protective policies offer a variety of perks designed to accommodate antique car owners, including inflation guard, nationwide flat-bed towing, agreed-upon value, rollover miles, and more!
Get premium insurance today for your Chrysler Imperial Phaeton or any other classic by calling us at 888-901-1338, or you can get an instant quote online here.